We offer a unified platform that caters to all industries, ranging from building complexes to entire megacities.
Open Platform with 3rd Party Integrations:
Access Control System
CCTV System
Credential Database System
Video Management System
Key Strengths
Comprehensive Front-End
By applying different aspects of AI, Cloud, Big data, and IoT technology, our comprehensive solution empowers the performance of the Edge devices.
Unleash Value from the Fusion of Data
The solution provides flexible and extensive metadata to build business-centric applications.
Sharing Scenarios and Building Closed Business Loops
Provides end-to-end operational processes tailored to fit different business needs.
Self-evolving Smart Platform
Expand deep-learning AI algorithm in response to everchanging complex public safety environment.
Real-time
Deep Insight
Track and Trace
Quicker Response
High Capacity
Holistic surveillance
Public Surveillance Use Cases
Personal Correlation
Watchlist both with whitelist and blacklist face searching
Automated surveillance drill-down
Seamless investigation per face, attributes, vehicle, etc.
Insight Enforcement Assistant
Get smarter insights with match confidence scoring
Big Data Analytics Reporting
Fully visible dashboard
We always welcome creative and innovative ideas
Geographic Vision
Integration with GIS and AUTOCAD map view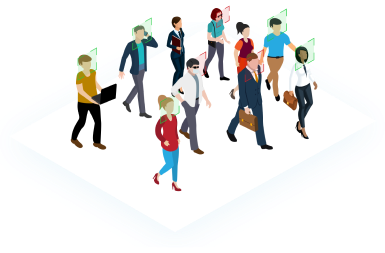 Advanced person profiling
Intelligent anonymous personal categorization to accelerate broader investigations.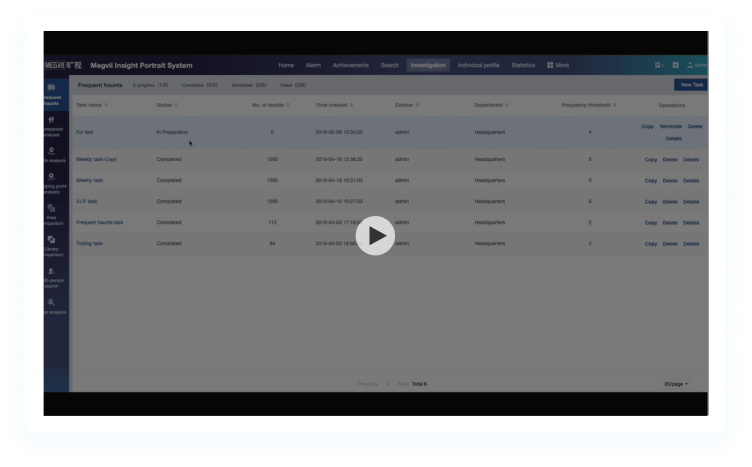 Award-Winning Technology
Megvii Solution adopts a distributed architecture based on completely proprietary deep learning algorithms of Megvii Technology and includes features such as real-time face comparison with high recognition rates and facial feature structuralization.
End-to-End AI Surveillance Solution
MEGVII stands among the few companies globally that have developed proprietary deep learning frameworks and advanced algorithms such as cloud-based, edge-based, and others that showcase their trustworthy credibility.
World Leading Solution Provider
The largest provider of cloud-based identity authentication solutions enabled by facial recognition and the largest AI-focused City IoT solution provider in China acknowledged by MIT Technology Review and CB Insights.