Award-Winning Campus Security
Safety, security, and proactive learning are absolutely essential when it comes to providing an access control system for schools and campuses. Hirsch Velocity Software with Lockdown has won a Gold 2020 Secure Campus Award. Velocity with Lockdown provides security operators and dispatchers across an entire campus with an affordable, integrated platform for emergency security threats, campus lockdown, and after-event forensic reporting.
Compliant Access Control and Security Operations
Hirsch Velocity Software provides the security and functionality expected from high-end systems with the ease-of-use found in entry level packages. Velocity delivers stringent security compliance, interoperability, and expansion and flexibility options designed to accommodate the evolution of security technology and meet the needs of even the most complex business, personnel, and facility requirements.
Real-Time Access Control
Velocity allows administrators and operators to access real-time system information, enrolment, and control functionality through a compatible browser on almost any device. Control doors, gates, turnstiles, elevators, and other equipment, monitor users as they move around a facility, prevent unwanted access, maintain compliance, and provide a robust audit trail.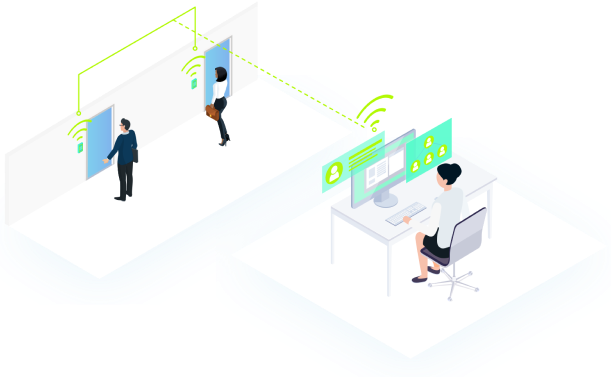 Velocity Features Highlight
Deadman Time
Set the interval time for a person to pass through multi-access points within a given time, otherwise, an alert will be triggered.
Threat Level Control
Change in threat level can restrict user access or disable a reader used for Active Shooter response and immediate response applications.
Duress
A duress digit can be entered along with their pin and trigger a silent alarm in a life-threatening situation without garnering attention from dangerous felons.
Occupancy Counting
The number of users can be defined for the inside area which will trigger an alarm when a maximum number of people is reached.
Multilevel User Admin
CCTV Viewer
Alarm/ Event Viewer
Alarm Triggered Control
Enrolment
Badge Maker
Time Zone
Schedule/ Holidays
Inactivity Detection
Mantrap
Reporting
Floor Plan
Threat Levels
Door Status
Door Group
Zone Control
Validate Credentials
Auto Re-Lock
Advanced 2-man rule
Global anti-passback
Command Control
Deadman Timer
View Occupants
Occupancy Control
The best device for high-level use in federal environments with limited viewing angles. Never compromise the security of the workplace with this cutting-edge innovation.
• General Services Administration (GSA) Approved
• For High-level Use in Federal Environments
• Random Digits Scrambling
• Two-factor authentication with contactless smart card reader and PIN access.
Other Products
Primis Access Control Reader
uTrust TS Government Reader Family
Hirsch ScramblePad Reader Family
Hirsch MX Controller
Hirsch M64 Controller
uTrust TS Reader Family
Why IDENTIV?
Indisputable Defense-grade Access Control and Security
Government trusted provider
Identiv is the US government trusted provider for over 40 years for its strong security and high standard solutions.
Security standard leader
Hirsch leads the industry in meeting evolving security standards and continues to stand out from its competition for its reliability.
Total Solution Stack
From hardware, software, firmware, controllers, and readers, Identiv provides a total solution stack that can meet the challenges of different environments.
Federal Intelligence Security
Hirsch alarm line supervision meets the requirements of US federal intelligence agencies for being the most substantial security.